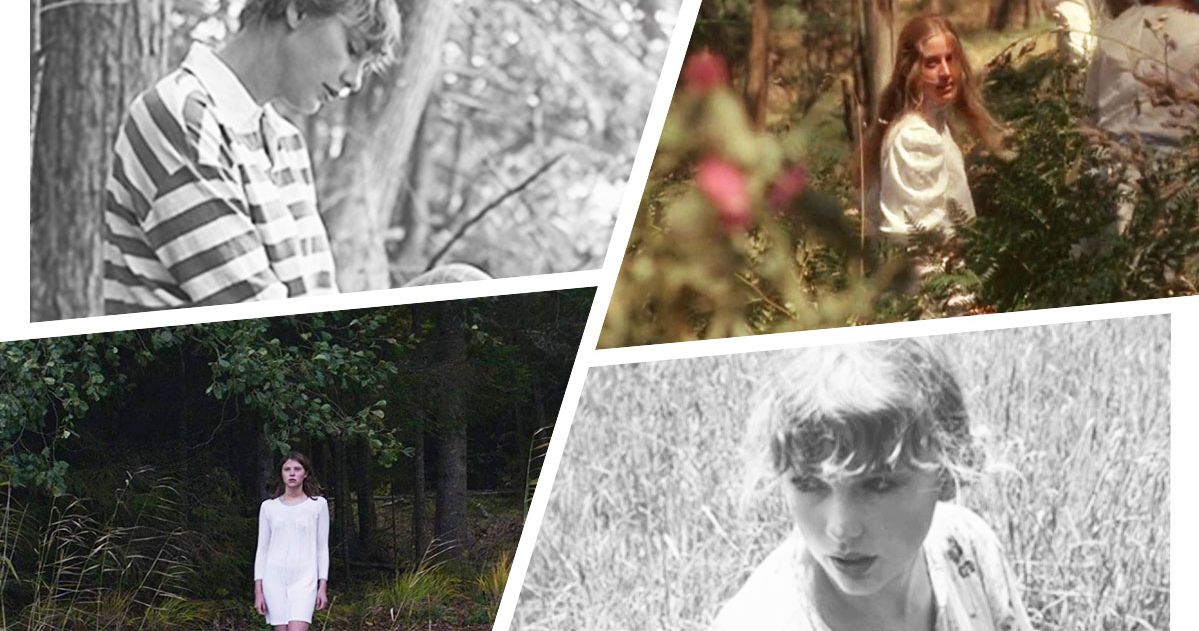 Photo: clockwise from top left: taylorswift.com, Criteria Collection, taylorswift.com, Orchard
Taylor Swift loves to break aesthetics into a proverb, and that has never been clearer than in marketing material folklore, her very first persecuted album about knitwear and crying at the trees. Taylor was really looking for that in the items and notes on the album, as well as the first musical image of her doing various ghostly forest activities, including but not limited to: sitting in a giant wheat field wearing a Babadook coat, making her hair like an old doll, lost in the woods, terrifyingly fleeing from some camera, carefully standing on the rocks and drowning. By releasing these crazy photos in front of the album itself, Taylor supposedly warned us about it folklore would be lo-fi and serious and inexplicably intimidating, thematically distracting him from the Technicolor Carnival Lover and the energy of the most important hot topic Reputation.
folklore marketing also reveals something else about Taylor: like all of us, she watched too much of the Criterion Channel during the quarantine, apparently intersecting with some sort of A24 horror. Every piece of image folklore the puzzle is in a way a purposeful or casual reverence for a variety of cult classic and genre films, all of which are particularly depressing and / or intimidating. Even the lyrics on the album are filled with links to watching and imitating movies ("I think I've seen this movie before / and I didn't like the end"; "I hit Sunday's mat / You know the best movies of all time were never made") to the horror genre (a song called "seven"; "I meant to tell you / I think your house is being persecuted"; "For digging the grave next time"; "Pack your dolls and a sweater"). What I'm trying to say is this folklore is a collaboration between Ari Aster / Robert Eggers / Ingmar Bergman / Jane Campion / Sofia Coppola that we've all been waiting for – a terrible black and white indie period horror film about a woman stuck in a recording studio with Jack Antonoff with only a nightgown and mushrooms for food. In honor of this unprecedented film event, I created a reverse version folklore the film's mood board, probably very similar to the one Taylor currently sits in her terrified seaside mansion, is covered with a red string and pistons and Liv Ullmann's screaming photos.
Ingmaro Bergmano Autumn sonata:
Photo: left: taylorswift.com, right: New World Pictures
Peterio Weiro Picnic by the hanging rock:
Photo: left: taylorswift.com, right: criteria collection
Andrei Tarkovsky Mirror / Ivan's childhood:
Photo: Left: taylorswift.com, Center: Movie / YouTube, Right: International Coast
Photo: left: taylorswift.com, right: Kino Video
Sofia Koppola Virgin suicides:
Photo: left: taylorswift.com, right: Paramount Home Video
Photo: left: taylorswift.com, right: Paramount Home Video
Photo: left: taylorswift.com, right: Paramount Home Video
Ario Asterio Noon:
Photo: left: taylorswift.com, right: A24
Photo: left: taylorswift.com, right: A24
Ingmaro Bergmano Person:
Photo: left: taylorswift.com, right: Janus Films
Vera Chytilova's Chamomile:
Photo: Left: taylorswift.com, Right: Sigma III Corp. (II)
Roberto Eggerso Witch:
Photo: left: taylorswift.com, right: A24
Photo: left: taylorswift.com, right: A24
Jane Campion's Piano:
Photo: left: YouTube, right: Miramax
Ingmaro Bergmano Summer with Monica:
Photo: Left: taylorswift.com, Right: Photo 12 / Alamy Stock Photo
Laura and Kate Mulleavy's Woodshock:
Photo: Left: taylorswift.com, Right: PictureLux / Hollywood Archive / Alamy Stock Photo
Photo: Left: taylorswift.com, Right: Pictorial Press Ltd / Alamy Stock Photo
Seano Durkino Martha Marcy May Marlene:
Photo: Left: YouTube, Right: Fox lightlight photos / Kobal / Shutterstock
Guillermo del Toro's Pan's Labyrinth:
Photo: left: taylorswift.com, right: Picturehouse
Joachimo Triero Thelma:
Photo: Left: taylorswift.com, Right: Orchard
Photo: Left: YouTube, Right: Garden Garden
Quentino Tarantino Hate Eight:
Photo: Left: YouTube, Right: The Weinstein Company
Jennifer Kento Babadook:
Photo: Left: taylorswift.com, Right: Front / Smoking gun points / Kobal / Shutterstock
Eduardo Sánchez and Daniel Myrick's The Blair Witch Project:
Photo: left: taylorswift.com, right: Artisan Entertainment
Bill Kroyer FernGully:
Photo: left: taylorswift.com, right: Twentieth Century Fox
Lars von Triero Antichrist:
Photo: left: taylorswift.com, right: Zentropa Ents / Kobal / Shutterstock
Johno Boormano Delivery:
Photo: left: taylorswift.com, right: Warner Bros. / Kobal / Shutterstock
Andy Tennanto It takes two:
Photo: Left / Center: taylorswift.com, Right: Allstar Picture Library Ltd./Alamy Stock Photo